EXTRA SMALL HD PTZ CAMERA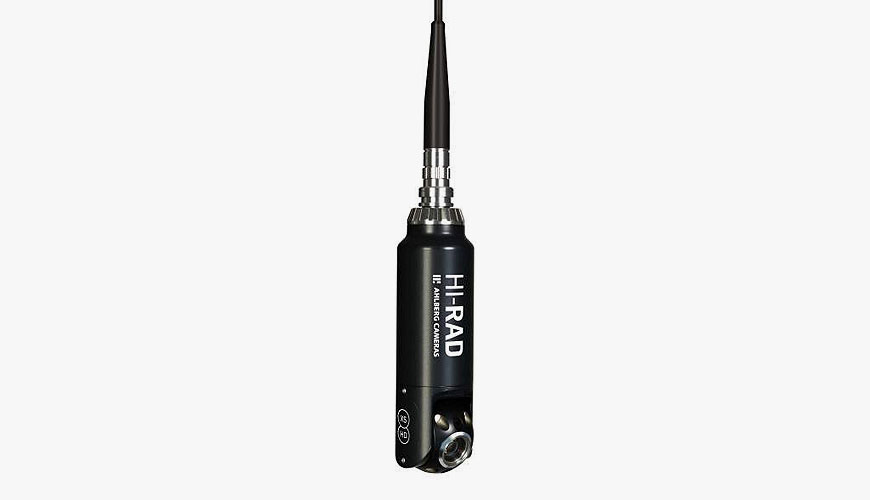 HI-RAD XS is a small camera with x10 times optical zoom and built-in pan and tilt functions. Thanks to its small size, it is well suited for irradiated areas with limited space.
Features
APPLICATIONS
G1-G2 versions for use underwater only. G3 version for use in air only.
For inspections where superior color rendition and high definition resolution is needed, e.g. fuel inspections and inspection of internal parts.
For inspections of large surfaces where frequent auto re-focusing is required, e.g. at core mapping.
Ideal for use in high radiation areas with limited space.
BENEFITS
Auto-focus and auto-iris
Superior color rendition and high definition image
Powerful LED lighting
Also available in SD video version
Specifications
| | |
| --- | --- |
| Diameter | 88 mm to 93 mm (3,46" to 3,65") depending on tilt angle |
| Length | 345 mm (13,6") |
| Weight | 3,8 kg (8,4 lbs) |
| Housing material | Stainless steel EN 1.4301/EN 1.4436, AISI 304/AISI 316, anodized aluminum |
| Radiation tolerance (dose rate) | 500 Gy/h (50 000 rad/h) |
| Radiation tolerance (total dose) | 1 200 Gy (120 000 rad) |
| Maximum temperature | 50°C (short-term up to 70°C) 122°F (short-term up to 158°F) |
| Water tightness | min 3,5 bar (50 psi), underwater versions |
| Ingress protection | IP65, air version |
| Zoom | x100 (x10 optical, x10 digital) |
| Minimum distance to object | 5 mm (0,20") |
| SD horizontal angle of view | ~5°-36° |
| HD horizontal angle of view | ~5°-50° |
| Resolution SD version | 720 TV-lines |
| Resolution HD version | 720p |
| Lights | 4 LED lights, in total 3600 lumen, 120° beam angle |
| Pan angle | 360° (endless rotation) |
| Tilt angle | ±135° (from the vertical plane) |