The requirements of safety standards for the operation of nuclear facilities are set very high. One of the elements that help increase the level of security in nuclear facilities are camera systems. The cameras can be used wherever local conditions do not allow the direct presence of operating personnel (high radiation, high temperature).
Cameras for continuous monitoring (24/7)
They are used to monitor critical equipment and parts of critical infrastructure. The aim of monitoring is to observe situations in time that could endanger the safety of nuclear power plant operation. These can be, for example, uncontrolled steam leakage, cooling water leakage, smoke, fire, but also non-functioning equipment. The construction of the cameras allows them to be fully functional in an environment with strong radiation and high temperature throughout their life cycle.
Thermographic cameras for continuous monitoring of temperature conditions (24/7)
Thermal monitoring of equipment and parts of critical infrastructure makes it possible to increase the safety of operation of nuclear facilities to the highest possible level. The aim of monitoring is to identify dangerous situations at the stage of their occurrence. This means much before conventional sensors and control systems can register them.
Temperature monitoring is performed using special thermographic cameras that continuously measure the temperature of the observed objects. The cameras can detect even small temperature changes and identify risky situations in time. Such can be, for example, steam leakage, cooling water leakage, overheating of electrical components and equipment, overheating of the material due to friction and the like.
Early observation of non-standard temperature conditions can prevent serious faults and industrial accidents.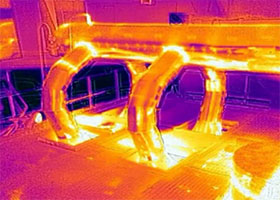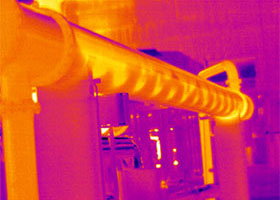 Cameras for inspection of nuclear facilities
Radiation-resistant inspection cameras are used to visually inspect inaccessible parts of nuclear facilities, such as the nuclear reactor vessel, primary zone high-pressure pipelines, nuclear fuel pools, and the like. They are also used to monitor the process of exchanging fuel assemblies in a nuclear reactor.