Thermal image streaming cameras offer the monitoring capabilities needed to accurately detect and identify thermal issues across manufacturing and industrial processes.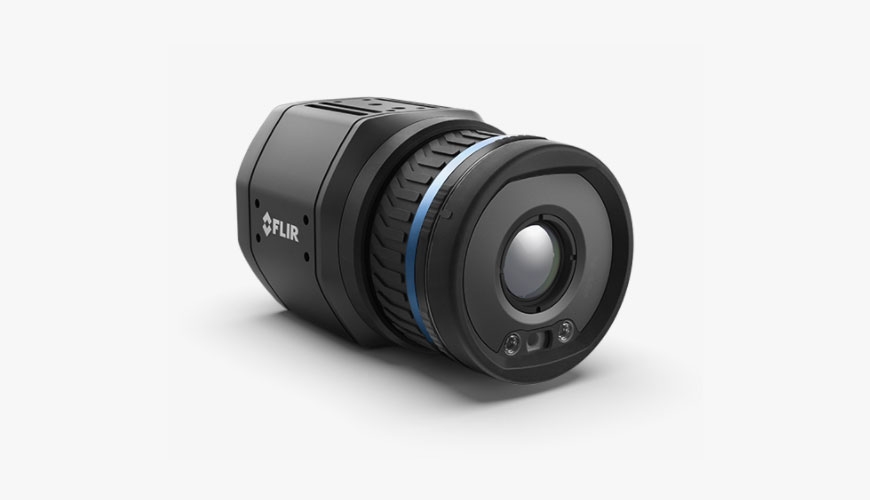 A400, A500, and A700 thermal cameras, when configured for Image Streaming, offer automation solution providers and industrial stakeholders the capabilities they need to accurately identify thermal issues across manufacturing processes. With multiple field-of-view choices, motorized focus control, and compressed radiometric image streaming, these automation cameras can tackle the most complex remote monitoring and temperature measurement objectives. Optimize Process Control and improve quality assurance through inline thermal inspections or identify abnormal conditions before a failure causes a production shutdown. The Axxx-Series can also provide early detection for faster responses to potential fires, helping minimize injuries and equipment damage. A400, A500, and A700 cameras offer unmatched power and flexibility in thermal monitoring for improved product quality, productivity, maintenance, and safety.
Features
FLEXIBILITY AND EASE OF INTEGRATION
Incorporate seamlessly into monitoring systems that meet a site's unique requirements.
GigE Vision® compliant – the industry standard
GenICamTM compliant – another important industry standard
Supports both GigE and RTSP data-streaming protocols (Advanced)
Compatible with 3rd party SDK and application software support
FLIR INNOVATIONS FOR SMARTER RESULTS
Transform process control, QA, and condition monitoring with leading-edge technology.
Temperature linear output simplifies use of temperature data in third-party software
Compressed radiometric streaming* cuts bandwidth by 90%, making it possible to connect cameras and share data via Wi-Fi (Optional)
Reduced bandwidth also allows users to add cameras without expanding infrastructure, for an overall cost savings
Simultaneously integrates with VMS and measurement applications using multi-image streaming (Advanced)
WORLD-CLASS THERMAL IMAGING CAPABILITIES
Designed with the features to deliver consistent, accurate results.
Provides superior image quality with up to 640 × 480 (307,200) thermal pixel resolution (Model-dependet)
Offers a high measurement accuracy of ±2°C
Improves temperature accuracy for objects near and far with precision motorized focus
Increases contrast in even-temperature scenes and enhances edge detail in low light using FSX® (Flexible Scene Enhancement)* technology
Specifications
Image and Optical Data
IR resolution
320 × 240 (A400), 464 × 348 (A500), or 640 × 480 (A700)
Visual resolution (Optional feature)
1280 × 960
Thermal resolution
<30 mK to <50 mK, lens dependent
Lenses
14°, 24°, and 42°
IR Camera Focus
One-shot contrast, motorized, manual
Measurement
Object temperatures
-20°C to 2000°C (-4°F to 3632°F), 3 ranges
Accuracy
±2°C (±3.6°F) or ±2% of reading
Video streaming, RTSP protocol
Standard Configuration
Advanced Configuration
Unicast
–
Yes
Multicast
–
Yes
Multiple image streams
–
Yes
Video stream 0
Source
–
Visual, IR, MSX®
Contrast enhancement
–
FSX®, histogram equalization (IR only)
Overlay
–
With, without
Pixel format
–
YUV411
Encoding
–
H.264/MPEG4/MJPEG
Video stream 1
Source
–
Visual, IR, MSX®
Overlay
–
No
Pixel format
–
YUV411
Encoding
–
H.264/MPEG4/MJPEG
Radiometric streaming, RTSP
Source
–
IR
Pixel format
–
MONO 16
Encoding
–
Compressed JPEG-LS; FLIR radiometric
Video/radiometric streaming, GVSP (GigE Vision) protocol
Unicast
Yes
Multicast
Yes
Multiple image streams
No
Video stream 0
Resolution
Visual, IR, MSX, 640 × 480 pixels
Contrast enhancement
FSX (optional), histogram equalization (IR only)
Overlay
With, without
Pixel format
YUV411 or MONO 8
Encoding
Uncompressed
Radiometric streaming, GVSP
Resolution
320 × 240 (A400), 464 × 348 (A500), or 640 × 480 (A700)
Source
IR
Pixel format
MONO 16
Encoding
FLIR radiometric; temperature linear
Compressed JPEG-LS; FLIR radiometric; temperature linear
Ethernet
Interface
Wired; Wi-Fi (Optional feature)
Connector types
M12 8-pin X-coded, female; RP-SMA, female
Ethernet type & standard
1000 Mbps, IEEE 802.3
Ethernet power
Power over Ethernet, PoE IEEE 802.3af class 3
Ethernet protocols
Include EtherNet/IP, Modbus TCP, and MQTT
Digital input/output
Connector type
M12 Male 12-pin A-coded (shared with ext. power)
Digital input
2× opto-isolated, Vin (low) = 0-1.5 V, Vin (high) = 3-25 V
Digital output
3× opto-isolated, 0–48 V DC, max. 350 mA (derated to 200 mA at 60°C). Solid-state opto relay, 1× dedicated as fault output (NC)
Power system
Connector type
M12 Male 12-pin A-coded (shared with Digital I/O)
Power consumption
7.5 W at 24 V DC typical; 7.8 W at 48 V DC typical; 8.1 W at 48 V PoE typical
Wi-Fi (Power feature)
Connector type
Female RP-SMA