HD PTZ CAMERA WITH MIRROR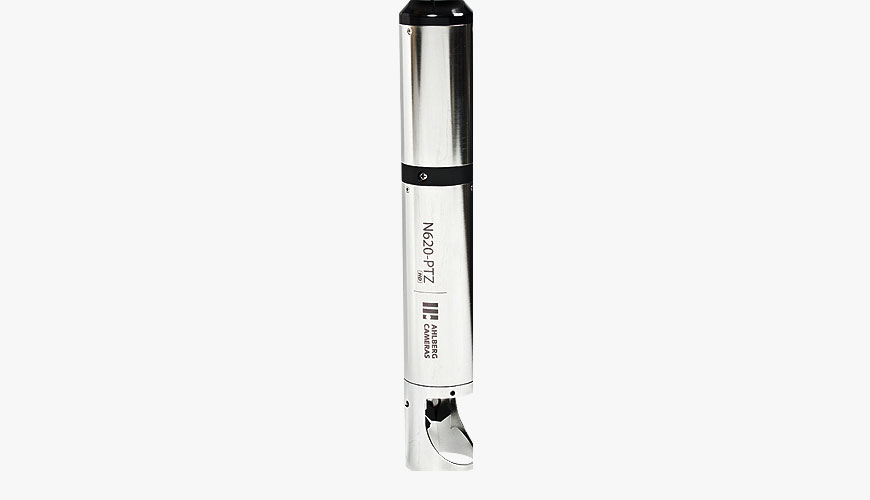 PTZ620 is a unique small-sized pan and tilt color camera. With its high resolution and radiation tolerance, it is perfect for inspection in narrow areas like pipes and upper and lower internals, such as BWR jet pumps.
Features
APPLICATIONS
Mounts on a range of manipulator and underwater tool systems, or can be dropped down hanging in its cable.
Close-up inspection in high radiation areas.
Ideal for use in areas with limited space such as the belt-line area and inside nozzles and pipes.
Fits in the flow holes in a PWR reactor and can perform inspection underneath the core plate.
BENEFITS
High radiation tolerance
Small diameter
Mirror tilt function enabling it to look either straight or 90 degrees +-20 degrees
2 ea high power LED lights
Available in SD/HD video version
Specifications
| | |
| --- | --- |
| Diameter | 62 mm (2,44") |
| Length | 425 mm (16,7") |
| Weight | 7,5 kg (16,5 lbs) |
| Housing material | Stainless steel EN1.4301/EN 1.4436, AISI 304/AISI 316, anodized aluminum |
| Radiation tolerance (dose rate) | up to 500 Gy/h (50 000 rad/h) |
| Radiation tolerance (total dose) | 3 500 Gy (350 000 rad) |
| Maximum temperature | 50°C (122°F) |
| Water tightness | min 3,5 bar (50 psi) |
| Zoom | x100 (x10 optical, x10 digital) |
| Minimum distance to object | 5 mm (0,20") |
| SD horizontal angle of view | 35° (wide end), 5° (tele end) |
| HD horizontal angle of view | 50°(wide end) to 5°(tele end) |
| Resolution SD version | 720 TV-lines |
| Resolution HD version | 720p |
| Lights | 12 ea high power internal LED 2 lighting channels 300 lumen per channel |
| Pan angle | 360° |
| Mirror tilt angle | 0-55° (making 110°) |