LED POND LIGHT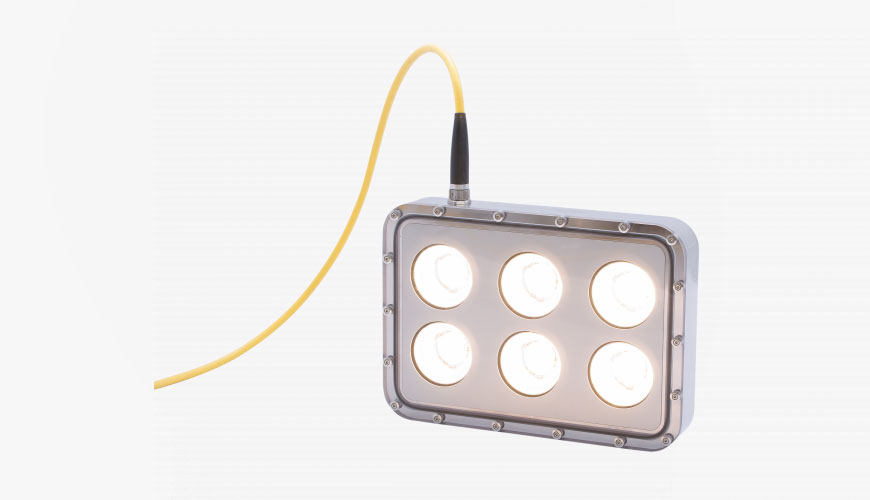 The Ahl-Light 70 is a robust LED pond light. It is used for powerful illumination of nuclear underwater work areas and fuel pools. The optimized reflector design increases the light output and ensures an even light distribution. The LED technology allows long-term operation and greatly reduced maintenance work compared to ordinary halogen lights.
Features
APPLICATIONS
Underwater nuclear pond light.
Ideal for work in reactor and fuel pools.
The light is delivered with a power supply that is placed either in air (on the railing or on the wall) or underwater.
BENEFITS
87 000 lumen light output
Low maintenance costs due to its long life-time
Overheating protection during unintended use in air
FME approved design - no loose parts can enter the pool water
Power supply can be placed in air or underwater
Specifications
| | |
| --- | --- |
| Length | 422 mm (16,62") |
| Width | 282 mm (11,11") |
| Height | 106 mm (4,18") |
| Weight | 12,2 kg (26,8 lbs) |
| Housing material | Stainless steel EN 1.4301/EN 1.4436, AISI 304/AISI 316 |
| Front glass material | Hard coated polycarbonate |
| Maximum temperature | 60°C, 70°C for short periods (140°F, 158°F) |
| Water tightness | 3 bar (30 m) |
| Lights | LED 100-240 VAC, 50/60 HZ, 480 W |
| Typical luminous flux | 87 000lm @5000K, 83 000lm @ 3000K |
| Color rendering index | 80 |
| Color temperature | 3000K or 5000K |
| Lighting angle | 64° x 64° |
| Life time | >50 000 h |
| Radiation tolerance (total dose) | 50 000 Gy (5 000 000 rad) |