At the beginning of December 2021, the traditional World Nuclear Exhibition took place in Paris. The company T-Global from Dolny Kubin together with the Swedish partner Ahlberg Cameras AB presented a complex monitoring system at the fair, which is designed to increase the safety of nuclear power plant operations.
Introduced products
T-Multisens Monitoring
The T-Multisens monitoring system is designed for continual monitoring of industrial infrastructures and technologic processes, where is the increased risk to arise of critical situations due to failure of technical equipment or caused by human factor.

More about the system T-Multisens Monitoring
T-Thermal Monitoring
T-Thermal Monitoring system is designed for a continual monitoring of temperature events and processes that occur on the surface of the observed objects and areas. System can quickly identify temperature anomalies of the observed objects and immediately alerts an operator on it.

More about the system T-Thermal Monitoring
T-Sound Monitoring
The T-Sound Monitoring system is designed for continuous acoustic monitoring of critical and technical infrastructures, including machinery and equipment. The aim of monitoring is to capture sound anomalies in time, which are one of the symptoms of a approaching technical failure (abnormal noise, whistling, hiss, etc.).

More about the system T-Sound Monitoring
Thermographic camera for radiation environment Ahlberg IR40
The world's first combined thermographic and visual camera to be developed for nuclear applications. It is designed mainly for early identification of temperature anomalies of critical equipment. In conjunction with the T-Thermal Monitoring system, it gives operators an early warning of unwanted behavior of the observed equipment. The thermographic sensor scan the observed object in the infrared spectrum and at the same time measures its surface temperature. The visual sensor helps the operator with orientation in the monitored area.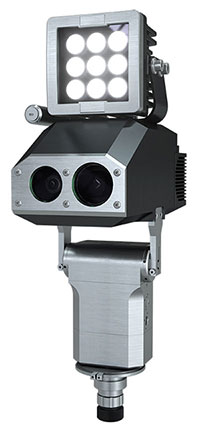 T-Global - we help improve security in the industry
The systems presented by us attracted visitors mainly with their complexity, design and unique properties, usable in an environment with nuclear radiation.
The exhibition was an important milestone for us and at the same time a strong impulse. We had many interesting negotiations with the visitors of our exposition. We believe that some of them will bring us new business opportunities. Personal meetings with experts working in the nuclear industry were also a new inspiration for the development of our products.